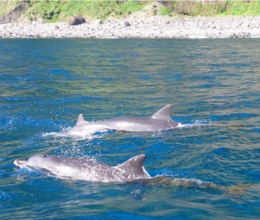 Welcome to Mikura island
The bottlenose dolphins inhabitant the costal water off Mikura island all years round ,making Mikura an unique place in the world where wild dolphins can be encountered everyday,weatherpermitting.

Our success rate of swimming with dolphins is secound to none.

We respect their life as same as humans life ,we can swim with them only they want to play with humanbeing.


Our tours have two options , watching or swimming.

Both these options occur on the same boat , they are not separate tours.
Our tour will be start every morning (8:00am) and afternoon (2:00pm),about 2 hours trip.

A customer has come from Finland,United States,Italy,Canada,Australia,spain and sweden before.


Walking tour
Mikura has a deep,beautiful forest.
Mikura's chinquapin tree is the biggest of Japan.
The waking tour is very pleasant.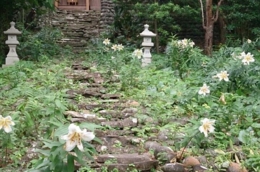 Accommodation
If you need accomodation, we can try to arrange for you.
However Mikura island has no YHA,BP or something like that .

We can ask the Japanese traditional guest house for you.
The cost will be \8000/night (including dinner and breakfast )

On a shoestring......
If you need more cheap one,there are some cabin.
The cost will be about \2500 /night .(no dinner and breakfast)
must be need sleeping bag or blanket.A blanket is borrowed at the tourist information.

We can help your trip to Mikura,please contact us.


How to get Mikura island.
Ferry
The passenger-only TOKAIKISEN runs between Takeshiba pier and Mikura island .
Book a few days ahead in summer.
The ship will be depert from Tokyo every evening at 10:20 pm and arrive at 6:00am.
and depert from Mikura at 12:20 pm and arrive Tokyo
at 7:30 pm .

A ship has an English announcement, so you're relieved.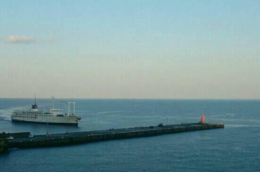 RESERVATION
We can speak English.
So,if you can't speak Japanese,it's O.K.
We can help your trip as well as possible.
Just contact us !


TEL : 04994-8-2218 (country code is 81)

E-mail : umiton_chu1969@yahoo.co.jp

Address:Mubanchi Mikurashima Tokyo,100-1301,JAPAN